Description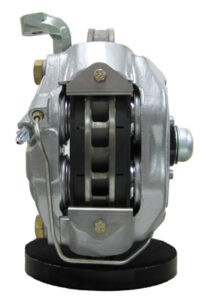 Using only premium components, this complete 'turn-key' vintage legal* kit is based on the Boss 302 Trans-Am racing brake system of the late 60's.  Using 12″ x 1.25″ rotors mounted to an aluminum hat this kit offers a great weight savings over the original version.  Giant Kelsey Hayes style 67-Tbird calipers provide excellent clamping power and utilize the popular D1 pad.  Our custom spindle bracket requires no modification to your DRUM spindles and enables the kit to fit the popular vintage legal* 15″ American Racing Torq Thrust D wheels.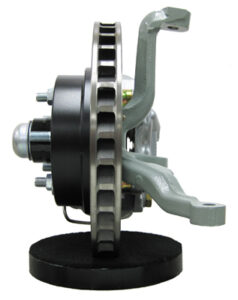 Fits 65-73 Mustangs, Falcons and other Fords that used the same spindles.  Direct bolt on to 65-73 Mustang V8 OE drum spindles (65-67 any spindle, 68-73 drum version only).  Retains OE track width and enables use of 15×7 (or larger) vintage style & backspace wheels without spacers or modifications.
Kit includes:
2 x 67-T-bird/Lincoln style 4 piston calipers complete with cross over tubes, stainless steel pad retention clips and your choice of Porterfield R4-S street pads or R4 Racing pads.  Calipers have had all the necessary machine work performed for a direct bolt on installation.  Finished in a high temperature silver powder coat.

2 x 12″ x 1.25″ 2-piece heavy duty rotors with 36 directional cooling vanes, shipped bolted and safety wired to aluminum hats.  Rotors are cast and finish machined in the USA.

2 x Hubs fitted with bearing races and standard length wheel studs (so you can use closed end lug nuts).  3″ long ARP studs and open ended lug nuts also available.

2 x Hub centric adapter shims.

2 x Billet steel spindle/caliper mounting brackets.  CAD designed, CNC machined and plated for corrosion protection.

2 x Timken inner bearings.

2 x Timken outer bearings.

2 x Timken inner dust seals.

2 x Stainless steel braided brake hoses complete with all adapters to connect to caliper and stock hard lines.

2 x Castle nuts (70-73 spindles use nut and castle style nut retainer).

2 x Cotter pins.

2 x Dust caps.

Grade 8 bolts and all the hardware to install the kit.
Pictures show system mounted to our optional Big Spindle (not included in this kit but highly recommended for serious track cars).