Description
At Opentracker Racing, we believe in challenging the way control arms  have been produced in the past. We believe in doing things differently by producing roller suspension components that move freely and without bind.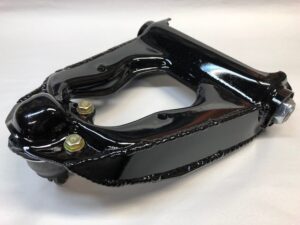 Maximize the handling potential of your '67-'73 Mustang with Opentracker Track Roller Upper Control Arms.  Featuring replaceable sealed roller bearings with  custom fabricated 4140 chromoly shafts, Opentracker  track roller upper control arms totally eliminate suspension bind resulting in a smoother ride with better grip and handling. You will notice an immediate improvement in your vintage racers lap times. The sealed roller bearings also eliminate the need for zerk fittings at the shaft kit for maintenance free operation.
Designed for heavy duty use, Our  track roller arms also feature additional reinforcement to eliminate flexing under hard cornering and braking. The upper ball joint angle has  been modified to allow the upper control arm to be mounted a full 1.50″ inch lower on the shock tower for maximum  camber gain. These arms also work well with the well known 1″ upper arm drop although maximum grip is achieved with the recommended 1.50″ drop. Opentracker track roller upper arms are state of the art for vintage racing and are vintage legal. Fully assembled and ready for installation with a new Moog heavy duty ball joint.
Sold in pairs.
Upper control arms fit:
(1967-1973 Mustang)
(1966-1970 Falcon)
(1966-1974 Comet)
(1967-1973 Cougar)
(1970-1977 Maverick)
(1966-1971 Fairlane)
(1968-1971 Torino)
Note: This is a custom built part. Please call or email for fabrication schedule and delivery times.
If you have any questions about fitment, application or custom work, please send us an  Email.