Description
Improve the steering of your classic with an Opentracker roller idler arm and frame bracket. The stock rubber bushing allows the center link to move up and down under braking and on rough road conditions. Replacing the factory rubber bushing with  (grease-able) bearings stops the center link from moving up and down. The roller idler maintains proper position of the center link as it moves from side to side. Smoother and more precise steering  is what you get with a roller idler arm. This idler arm is pre-greased and ready to install.
Manual steering cars will especially appreciate this upgrade as the reduced steering effort is a bonus. Opentracker roller idler arms are made using high quality, US made components. We have replacement bearings available.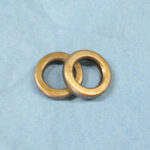 Fits –
64-66 Mustang
60-65 Faclon/Comet with 63-65 Falcon V8 steering ( 2 hole Mustang type frame bracket needed).
We use this idler arm on our 64-66 Mustang and 60-65 Falcon 6 to 8 cylinder swaps. It is also used if the owner wants to keep the I6 motor and upgrade to the 5 lug V8 type steering.