Description
• The stock rubber bushings have been replaced with a high quality, high strength Teflon & Kevlar impregnated rod end mounted in a custom designed billet steel bracket. This eliminates the stock bushings and binding problems associated with the stock strut, while allowing free movement throughout the suspensions range of motion.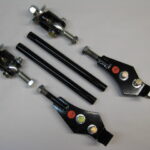 • No cutting, welding or modification needed for installation. With basic tools our adjustable strut rods can be installed in approx. 30 minutes per side. Alignment needed afterwards.
• CNC milled and laser cut parts are then TIG welded for strength and accuracy.
• All steel parts are finished with the highest quality black powder coat for ultimate long-term weather protection!
• Kit supplied with detailed color instructions, quality fasteners, nylon insert lock nuts and all the hardware you'll need to install our kit!
• Extensively tested on the street and track.