New to the market in 2004, our first innovation. I needed a smooth pivot and didn't like the idea of using poly or bronze.  Instead I used sealed roller bearings and the results are a huge improvement in ride quality, grip and handling, with less noise and vibration. With long lasting, high mileage replace-able bearings, they should last the life of your car.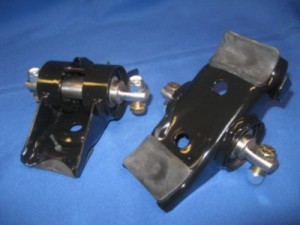 The next step in roller performance. Without a doubt, the best OEM style control arms on the market and you can have them any way you like. Drag Racing, Road Racing or Street Performance, we can make anything you want.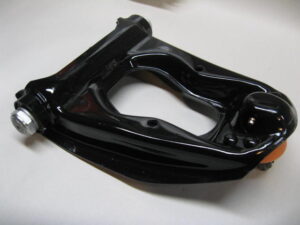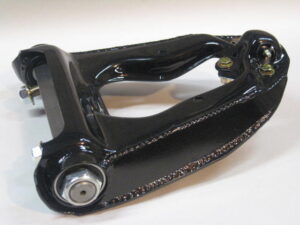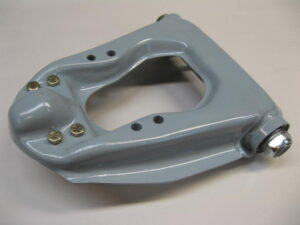 Our take on an popular upgrade. Our spherical bearing pivot is US made, Teflon lined and self lubricating.  Rated at 32,000lbs. Our roller lower arms come with or without bracing. We have a full race version with a replaceable screw in ball joint or a Howe adjustable ball joint.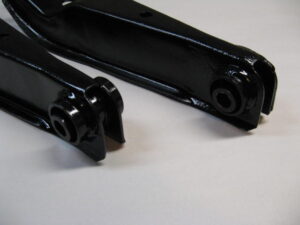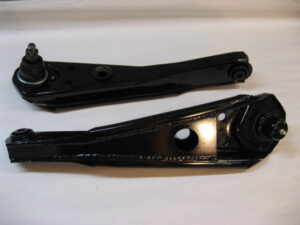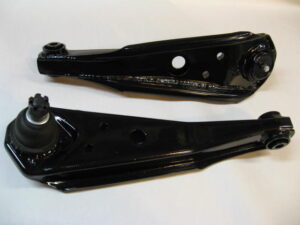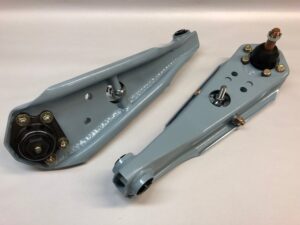 The Drag Racing teams we work with asked for a roller perch with a separate pivot for the shock to eliminate any chance of bind. On the drag strip, the double rollers produce a quicker 60′ time, better car control and stability under braking than a single roller perch.
On-going road course testing with our Vintage Racers has shown a huge improvement with corner turn-in and overall driver control  with the double rollers. Throughout  our testing, the double rollers provide equal gain to the road racers and drag racers.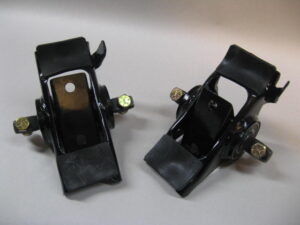 Roller idler arm for early Mustang and Falcon
Sounds simple enough but we are the only gearheads offering a roller idler for the early Fords and Mercury's. With a stock V8 frame bracket, this roller idler will work with any 60-65 Falcon/Comet and Mustang with V8 steering.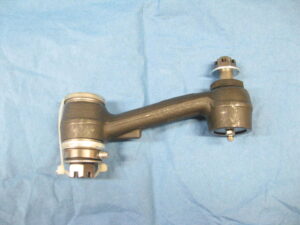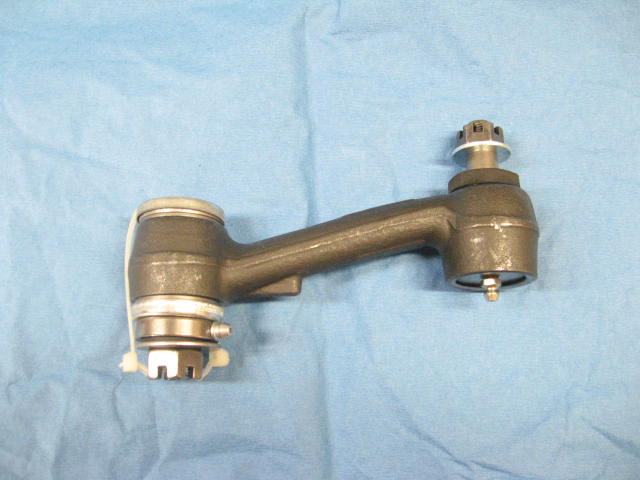 Trans-Am style roller idler for 67-70 Mustangs
For the Vintage Racers, a roller idler like the ones used back in the Trans-Am days.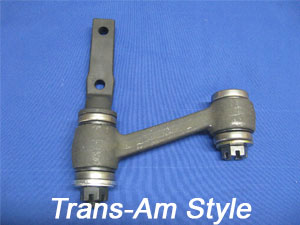 Trans-Am style roller idler arm for the 71-73 Mustangs.
Until now, the only type of idler you could get for the  71-73 Mustang is one with rubber bushings. Now everyone can have a full roller front suspension. This was the only roller part we didn't have for the 71-73 crowd.  This Trans-Am style idler has two custom roller idler bearing kits with a modified frame bracket and housing.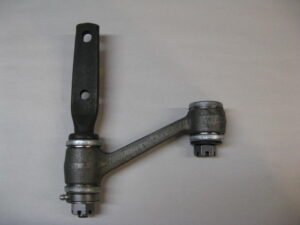 Maverick Double Roller  ~Trans-Am style Idler Arm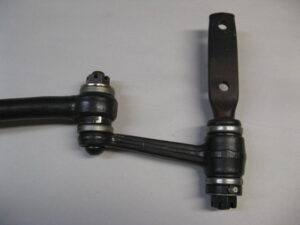 We replace the rubber bushing in the center link and idler arm with custom roller kits. The result is supper smooth steering and improved driver control. Call or   Email for details.
All of our Trans-Am idler arms are re-build-able with our replacement bearings.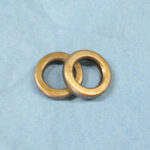 With proper care, a Trans-Am idler arm should last the life of the car.
Numbered plate system for camber kits
The numbered plate system is much easier to work with than other systems with the thin square washer,  A/B sides and offset holes. Our plates are thicker so they won't bend and adjustment is simple.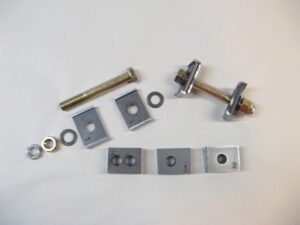 Blueprinted Control Arms that don't squeak or bind
Our blueprinting process makes right what is usually wrong with the stock upper arms. Proper bushing adjustment to remove bind, centering the shaft for an easy alignment, pre-lubing for superior break-in and longer grease fittings for easier maintenance make our Street Performance and Cheater Control Arms the best available on the market.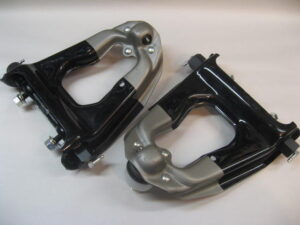 Roller Spring Perches for a 62-67 Chevy ll
New to the market, never seen before, roller perches for the early Chevy ll. With the same great results as our AMC/ Ford roller perches.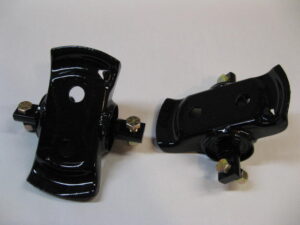 Roller Upper Control Arms for a 62-67 Chevy ll
An Opentracker innovation. Similar to the kit used with our Ford OEM upper control arms.  Email with questions and fabrication time.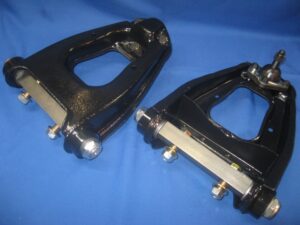 Double Roller Spring Perches for a 62-67 Chevy ll Nova 
Stock body with a custom double roller kit.  They work well on the drag cars to quicken the '60 time. Improvements of a tenth or more is what we hear most.
New to the market and an Opentracker innovation. The early AMC and AMX cars use a spring perch similar to the early Fords and Chevy's. Enough pressure applied by the racers and out came a AMC/AMX roller perch. Used mainly by the Trans-Am group vintage racers, they are a huge upgrade to the stock rubber perch.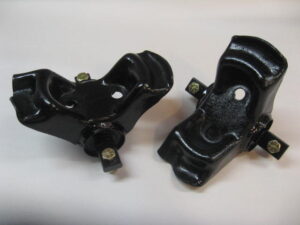 A spherical bearing at each frame pivot. Email with questions and fabrication time.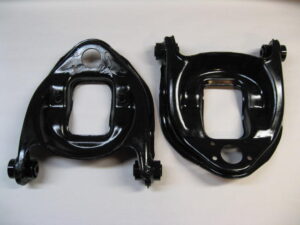 A spherical bearing at each frame pivot. Email with questions and fabrication time.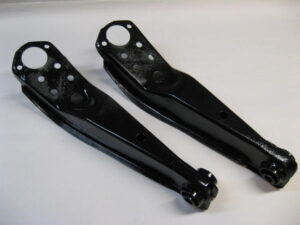 Roller Upper Control Arm Kits for 62-65 Fairlanes
New to the market, Roller Upper Control Arms for the early Fairlanes.  Do it yourself or we can install the kit for you in your OEM Upper arms. We also have the US made ball joints. Call (831-659-0688) or Email any questions you have.
Roller Lower Control Arm Bearing Kits for 62-65 Fairlanes
Roller Lower Control Arms for the early Fairlanes.  Do it yourself or we can install the kit for you in your OEM lower arms. We also have the US made lower ball joints. Call (831-659-0688) or Email any questions you have.
Shorter OEM Style Upper Control Arms
A shorter upper arm for a quicker camber curve. For the Vintage Road Racers wanting stock looks with better than stock performance.  Call or Email for tech support and ordering information on the different styles we have available.  We have upgrades for these arms including a roller shaft kit, ball joint slide, ball joint dome modification, motion ratio improvement and bracing options for these arms.
Roller Z-Bar and Clutch Rod Kit
The stock clutch linkage works OK when it's new.  As soon as it wears a little, it gets sloppy. Using self lubricating bearings at the pivot points makes your clutch smooth and reliable. The reinforced Z-bar eliminates the flex often found with the stock Z-bar.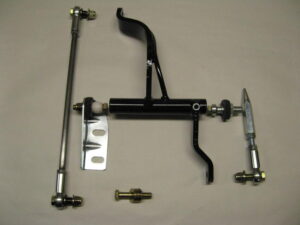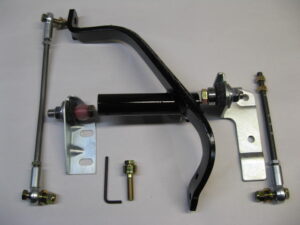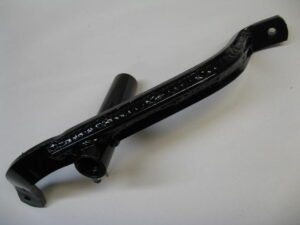 Call 831-659-0688 or Email with any questions.
Delrin Monoball Strut Rod Bushings with Threaded Strut Rods 
Made from Delrin, these strut rod bushings won't deflect like the OEM style rubber bushings. Ideal for racing classes where a strut rod with a rod end pivot is not allowed. These strut rods can be used to adjust caster.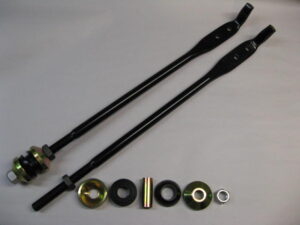 One Inch Spring Perch Move
The One Inch Spring Perch Move improves the motion ratio by moving the load bearing point of the spring closer to the ball joint. This improves ride quality, grip and handling. Not so much an innovation, rather our take on a rarely used upgrade. Another small improvement for the 60-70's era Ford or Mercury.
This photo shows the perch move on a street performance roller upper arm with a double roller spring perch.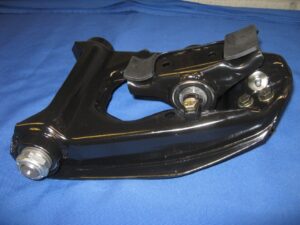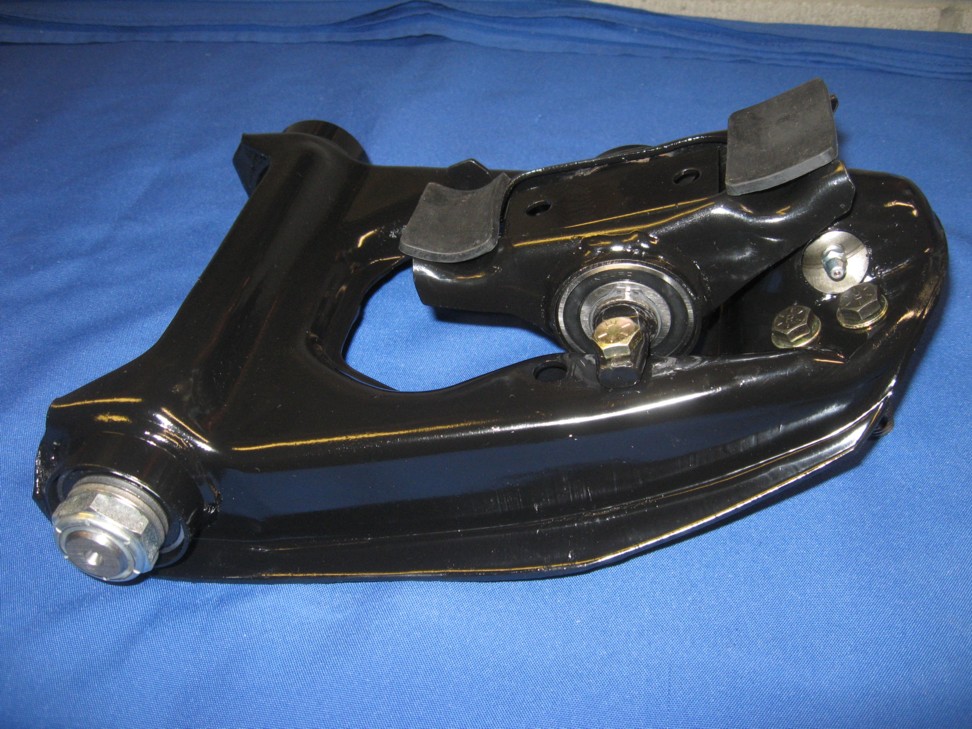 Changing to a more favorable motion ratio allows you to use less spring rate to do the same job.  The shock is utilized more by the increased travel. Both are gains for the performance driven classic.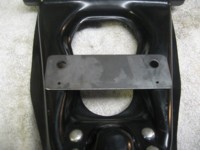 Depending on current spring rate, the perch move will increase the rate by 100-125lbs. It will also raise the car about 1/2″.
This upgrade is for the road racer looking for every little bit of gain available. It does not make a big change like the 1″ upper arm drop. It makes a slight improvement to driver control.
We have had some clearance issues with the perch move. On some aftermarket upper control arms, the stamping is not like ours or the original Ford control arm and requires modification. Call or email for details.
The Ball Joint Slide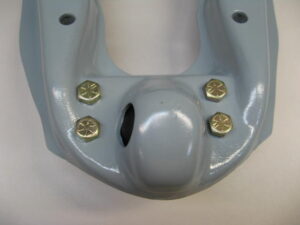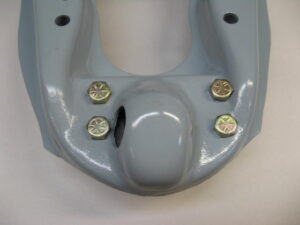 Camber and Caster can be improved with The Ball Joint Slide. Another small step to better performance. We modify the upper arm to move the upper ball joint back as far possible to add negative camber, and then slid the ball joint to the right or left as far as possible to add caster.  After drilling some new holes and welding up the old holes, they look almost stock . The ball joint slide is an A-Ford-able way to add camber and caster to these cars.
The Ball Joint Dome Modification
The Ball Joint Dome Modification lets us run more backspacing up front than normally allowed. With this mod you can run 4.75″ of backspacing with a 15″ wheel. Normally 4.25″ is the best fit for a 15″ wheel because of wheel to upper arm clearance. Fitting big tires to these cars is a major goal of ours and this is an option to make that happen.
We added a reinforcement plate on the bottom of the arm and another on top. We've used this mod a few times and shared the idea with many of our racer friends. It helps if your trying to fit large tires on the front of a Falcon, Mustang or other early Ford.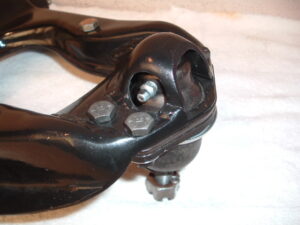 —————————————————————–
N

E

W

S 
—————————————————————–
FINALLY!!~~New to the Market~~11X2.25″ Rear Drum Brakes for Small Bearing Ford. This kit will fit your stock 8″ or 9″ rear end with the small  bearing pattern.  A bolt in upgrade for most '60-'70 Fords. We have the Porterfield performance shoes available.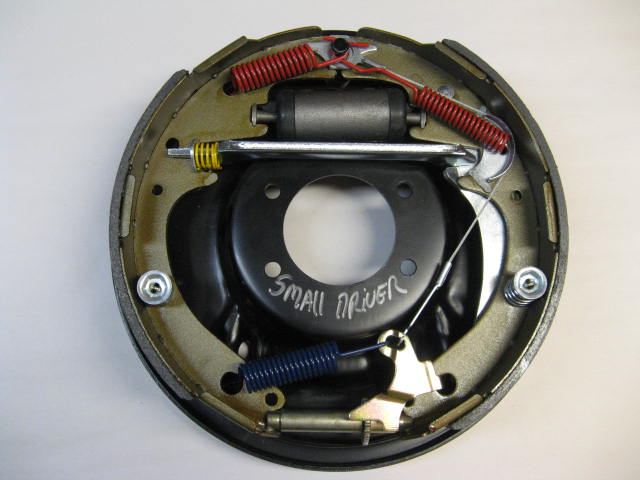 Check out our Swap Meet page for deals on good-used and sale items.